Blog / San Diego News / 3 Free Holiday Events in San Diego
3 Free Holiday Events in San Diego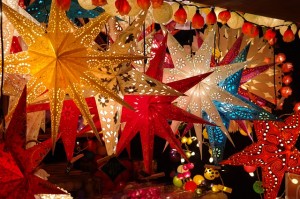 The holidays are here! It's time to go out and enjoy all the events and activities this season has to offer. But wait – you barely have any scratch left over after buying gifts. Plus, there's the rent and the bills and the … Oh, bother. Guess you'll just have to stay in the dark den of your home, binging on Netflix and slowly turning into a pale green Grinch-like figure from the lack of vitamin D and holiday cheer … Or maybe not!
Fortunately for you, San Diego has plenty of fun and free holiday events and activities for people with especially modest wallet weights. Below we have listed some of the best the sunny SoCal city has to offer.
San Diego Bay Parade of Lights
The San Diego Bay Parade of Lights, an annual time-honored tradition, will take place every evening from December 14 – 21. Come out to the Bay and witness more than 80 eye-popping, extravagantly decorated boats as they sail from Shelter Island past Harbor Island, the Embarcadero and other idyllic spots. Bring your friends, your kids, the whole family! There's bound to be a delightful experience for all!
Gaslamp Holiday Pet Parade
Do you find yourself browsing cute animal pictures for hours on end? Are you that friend who relentlessly posts cat and dog videos on your Facebook feed? Well, do we have a treat for you. On December 14, from 1 p.m. to 5 p.m., there will be a parade – a literal parade! – of all kinds of cute creatures on the streets of the Gaslamp Quarter in Downtown. Some of them may even don sickeningly adorable mini Christmas sweaters. So, don't miss out.
Port of San Diego Big Bay Balloon Parade
Everybody loves Christmas Day! There's the food, the gifts and the holiday splendor! But the day after … well, that's a whole 'nother matter. If you and your family want to escape the post-Christmas doldrums, what better way to do it than to watch a procession of enormous air balloons, magnificent floats, drill teams and more in the scenic, bayside streets of downtown?
The Jurewitz Law Group Injury & Accident Lawyers wishes everyone in San Diego County a happy and safe holiday season!
Ross Jurewitz
Ross Jurewitz is the founder and managing lawyer of the Jurewitz Law Group, a San Diego personal injury attorney law firm. These San Diego injury accident lawyers specialize in helping people seriously injured in a variety of accidents throughout San Diego County and California.
Connect with Ross Jurewitz on Google+