Blog / Car Accident / Car Crashes Into East San Diego County Veterinary Clinic
Car Crashes Into East San Diego County Veterinary Clinic
A vehicle was driven into the Rancho Village Vet Hospital at 3641 Avocado Blvd. in El Cajon on June 12' 2011' around 10 a.m. The car went deep into the Rancho San Diego Shopping Center where the veterinarian office was located. No one was hurt and the vehicle did not reach the area where the animals were housed.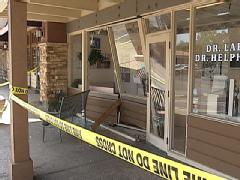 There is limited information on what appears to have caused the loss of control. The building owner should consult with an experienced San Diego auto accident lawyer to pursue a lawsuit against the driver for damage done to the clinic. If it is found in the investigation that a vehicle malfunction made the driver lose control of the vehicle' then the automaker will be held liable for the damage done to the building.
Ross Jurewitz is a personal injury attorney in East San Diego County and the managing lawyer of the Jurewitz Law Group Injury & Accident Lawyers' a California car accident law firm dedicated to representing people injured in car crashes. If you or a loved one has been dinjured in a vehicle accident in Rancho San Diego' please order your free copy of Mr. Jurewitz's California car accident book' The Ten Biggest Mistakes that can Destroy Your California Accident Case. It is full of helpful information that will help you protect your legal rights and it is free to all California residents.
Ross Jurewitz
Ross Jurewitz is the founder and managing lawyer of the Jurewitz Law Group, a San Diego personal injury attorney law firm. These San Diego injury accident lawyers specialize in helping people seriously injured in a variety of accidents throughout San Diego County and California.
Connect with Ross Jurewitz on Google+