Blog / Car Accident / Carlsbad Car Crash Injures Driver and Passenger | Accident Attorney
Carlsbad Car Crash Injures Driver and Passenger | Accident Attorney
Two men suffered serious injuries in a single-vehicle wreck that occurred on July 15' 2011' around 10 a.m. at Tamarack Avenue and La Portalada Drive in Carlsbad. According to the police officials' their sports car veered off the road and struck a tree.
The impact of the collision was so strong that one of the passengers was ejected out of the vehicle. Firefighters had to free the driver from the crumpled vehicle. Responding medics immediately airlifted one of the passengers to Scripps Memorial Hospital La Jolla' while the other one was transported to a nearby hospital for treatment.
Now the investigating officers need to determine whether there was a loss of control or if the accident occurred due to someone else's negligence. If the investigating officers find that there was a loss of control due to a vehicular malfunction' then the automaker will be held liable for the injuries suffered by both the victims. On the other hand if bad road lead to this accident' then the road maintenance authorities may be held responsible for the injuries suffered. If' however' the auto accident was caused by the driver's recklessness' then the passenger can file a claim against him for reparations.
Regardless of the reason that contributed to this serious solo-vehicle crash' the injured victims should immediately seek counsel from an experienced car accident lawyer to know about their legal rights and options. A Carlsbad personal injury lawyer may even hire a private investigator to determine the exact cause of this crash.
Timely assistance from an experienced car crash lawyer will help the injured victims obtain fair compensation to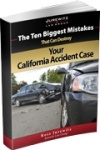 cover medical' treatment and hospital costs' loss of wages' loss of earning capacity' and other accident-related damages-depending on the scenario.
Ross Jurewitz represents people killed in North San Diego County car accidents and is the managing lawyer of the Jurewitz Law Group Injury & Accident Lawyers' a California personal injury law firm dedicated to representing families of people injured or killed in auto accidents. If you or a loved one has been killed or injured in a car collision in Carlsbad' please contact our personal injury office at 888-233-5020.
Ross Jurewitz
Ross Jurewitz is the founder and managing lawyer of the Jurewitz Law Group, a San Diego personal injury attorney law firm. These San Diego injury accident lawyers specialize in helping people seriously injured in a variety of accidents throughout San Diego County and California.
Connect with Ross Jurewitz on Google+