Blog / Car Accident / El Cajon DUI Car Wreck on I-8 Injures Driver and Passenger
El Cajon DUI Car Wreck on I-8 Injures Driver and Passenger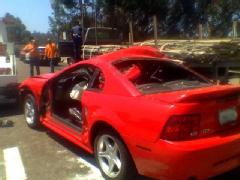 A driver and his passenger suffered minor injuries in a truck accident that occurred on August 15' 2011' around 11 a.m. on westbound Interstate 8 (I-8) just west of North Johnson Avenue in the El Cajon area. According to the California Highway Patrol Officers' a red Ford Mustang being driven by Pejman Sagart rear-ended truck carrying scaffolding.
Authorities said that the truck driver made an unsafe lane change when he was hit by the Mustang. The impact of the collision was so strong that the Mustang was lifted off the ground. Both Sagart and his passenger had to be extricated out of their car to save their lives. Sagart and his passenger suffered minor injuries and were treated at the accident scene.
California Highway Patrol Officers later arrested the truck driver on the suspicion of DUI. It is indeed an unfortunate thing that due to the negligence of the intoxicated truck driver' two people were almost killed.
The truck driver will most likely be found to have violated California Vehicle Code Section 23152(a) which states that "It is unlawful for any person who is under the influence of any alcoholic beverage or drug' or under the combined influence of any alcoholic beverage and drug' to drive a vehicle."  The driver and his employer may be held responsible for the accident.
Sagart and his passenger should immediately consult with an experienced El Cajon car collision lawyer who would educate them about their legal rights and options. An auto accident lawyer will help both the injured victims obtain fair compensation to cover treatment' medical and hospital costs' loss of wages' loss of earning capacity' and other accident-related expenses.
Our law office sincerely hopes that the injuries suffered by both the victims heal soon.
Ross Jurewitz
Ross Jurewitz is the founder and managing lawyer of the Jurewitz Law Group, a San Diego personal injury attorney law firm. These San Diego injury accident lawyers specialize in helping people seriously injured in a variety of accidents throughout San Diego County and California.
Connect with Ross Jurewitz on Google+