Blog / Pedestrian Accidents / El Cajon Truck Accident Injures Elderly Pedestrian | San Diego Lawyer
El Cajon Truck Accident Injures Elderly Pedestrian | San Diego Lawyer
A 61-year-old man in a motorized wheelchair was struck and injured in a truck accident that occurred on July 30' 2011' around 9 p.m. on the north sidewalk of East Main Street near South Second Avenue. According to El Cajon Police Lt. J. D. Arvan' the man stopped his chair and then darted out into oncoming traffic' where he was struck by a westbound pickup truck.
According to the investigating officials' the pickup driver failed to notice the man in the wheelchair. The injured victim suffered critical injuries and was immediately transported to a nearby hospital for treatment.
From the available information' it is evident that negligent driving of the pickup driver led to this serious truck crash. His inability to notice the elderly man caused life-threatening injuries.
The injured victim and his family members should immediately seek counsel from an experienced truck crash lawyer to learn about their legal rights and options. An East San Diego County truck accident lawyer would assure that the at-fault pick driver is apprehended and brought to justice. The El Cajon personal injury lawyer would also help the injured victim obtain timely compensation to cover treatment' medical and hospital costs' and other accident-related damages.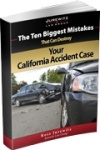 Ross Jurewitz represents people killed or injured in San Diego County pedestrian accidents and is the managing lawyer of the Jurewitz Law Group Injury & Accident Lawyers' a California personal injury law firm dedicated to representing families of pedestrians injured or killed in auto accidents. If you or a loved one suffers from a serious car crash injury' please contact our personal injury office at 888-233-5020.
Ross Jurewitz
Ross Jurewitz is the founder and managing lawyer of the Jurewitz Law Group, a San Diego personal injury attorney law firm. These San Diego injury accident lawyers specialize in helping people seriously injured in a variety of accidents throughout San Diego County and California.
Connect with Ross Jurewitz on Google+