Blog / Car Accident / Fatal Chula Vista I-805 Car Crash Kills Female Motorist
Fatal Chula Vista I-805 Car Crash Kills Female Motorist
Publish Date: 2012/01/03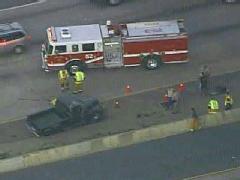 A 25-year-old San Diego based woman, Wendy Hamabata, was killed in a tragic car crash that occurred on December 28, 2011, around 4:35 p.m. while she was northbound on Interstate 805 (I-805) in Chula Vista. According to the California Highway Patrol, Hamabata was driving at about 65-70 mph in her recently purchased black 1955 Chevrolet pickup, when she lost control of the truck, just north of East H Street. It swerved to the left and struck a median wall before overturning.
The impact of the collision threw her out of her truck. Hamabata suffered life-threatening injuries and was pronounced dead at the accident scene. The California Highway Police is investigating the cause of the crash. CHP officer Art Atkins stated that the truck, which was manufactured without seatbelts, would be examined for any mechanical problem.
If it is found out that there was loss of control due to vehicular malfunction, then the auto maker may be held liable for this accident. Meanwhile, the victim's family members should immediately seek counsel from an experienced San Diego County rollover car accident lawyer who would educate them about their legal rights.
The victim's family members may file a wrongful death claim in Chula Vista against the manufacturer to obtain compensation to funeral and burial costs, loss of anticipated earnings, loss of love, care and companionship, and other accident-related damages.
Our personal injury law office sends sincere condolences to victim's family members.
Ross Jurewitz
Ross Jurewitz is the founder and managing lawyer of the Jurewitz Law Group, a San Diego personal injury attorney law firm. These San Diego injury accident lawyers specialize in helping people seriously injured in a variety of accidents throughout San Diego County and California.
Connect with Ross Jurewitz on Google+