Blog / Car Accident / Fatal National City Rollover Accident at SB I-15 Kill Navy Man
Fatal National City Rollover Accident at SB I-15 Kill Navy Man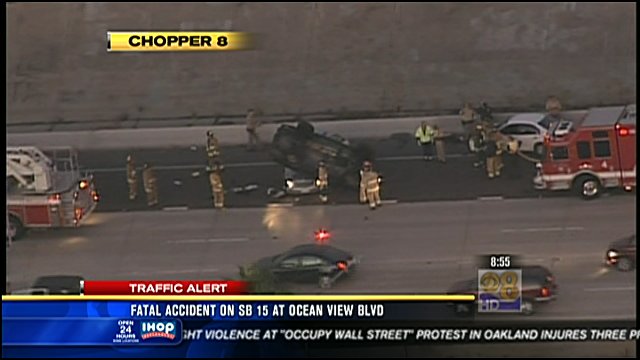 A 27-year-old Navy man was killed in a four-vehicle crash that occurred on November 3' 2011' around 6:30 a.m. on southbound state Route 15 (SR-15) at Ocean View Boulevard. According to California Highway Patrol' a Jeep Cherokee lost control as it approached several other stopped vehicles preparing to enter Interstate 5 (I-5).
The Jeep hit a Honda Civic' an SUV' and then the rear end of a Cadillac DeVille with enough force to push the Cadillac into a Toyota Corolla. The Jeep finally flipped on top of the Cadillac before coming to rest.
The Jeep driver suffered fatal injuries and was pronounced dead at the accident scene. The Cadillac driver sustained minor injuries and was immediately transported to Sharp Memorial hospital to receive medical treatment.
The Toyota driver suffered minor injuries and the Honda driver fortunately escaped unhurt. From the available information' it may be a loss of control that led to this fatal car wreck. All of the drivers were male and three were in the U.S. military. The accident is under investigation.
The victims or their family members should immediately seek counsel from an experienced National City car wreck lawyer who would educate them about their legal rights. If the investigators find that it was a mechanical malfunction' then the faulty auto maker may be held responsible for the accident and financially liable for the damages caused.
The injured victims can also file a personal injury claim against the at-fault party to obtain compensation to cover treatment' hospital costs' and other accident-related damages.
Our San Diego law office offers our sincere condolences to all those who knew and loved the deceased for such an upsetting loss. We sincerely hope that the injuries suffered by the victims heal soon and do not prove life threatening.
Ross Jurewitz represents people injured in San Diego County traffic accidents and is the managing lawyer of the Jurewitz Law Group Injury & Accident Lawyers' a California personal injury law firm dedicated to representing families of people injured or killed in rollover car accidents. If you or a loved one has been killed or injured in a car accident in National City' please order your free copy of the California car crash book. It is full of helpful information that will help you protect your legal rights and it is free to all California residents.
Ross Jurewitz
Ross Jurewitz is the founder and managing lawyer of the Jurewitz Law Group, a San Diego personal injury attorney law firm. These San Diego injury accident lawyers specialize in helping people seriously injured in a variety of accidents throughout San Diego County and California.
Connect with Ross Jurewitz on Google+