Blog / Car Accident / Fatal Riverside Rollover Car Wreck Kills Passenger | CA Injury Lawyer
Fatal Riverside Rollover Car Wreck Kills Passenger | CA Injury Lawyer
21-year-old Vincent Giuliano was killed in a rollover wreck that occurred on September 17' 2011' around 9:49 p.m. on El Sobrante Road south of Riverside. According to California Highway Patrol Officers' Giuliano was thrown from a pickup truck as it rolled over several times.
Giuliano suffered critical injuries and was pronounced dead at the accident scene' by Palm Drive near Lake Mathews. There is limited information about the accident and there is a possibility that a vehicular malfunction might have contributed to this fatal crash. Giuliano's family members should immediately seek counsel from an experienced Riverside County rollover accident lawyer who would educate them about their legal rights and options and assure that the at-fault party is apprehended and brought to justice.
Giuliano's family members may be eligible to get compensation to cover funeral and burial costs' loss of anticipated wages' loss of love' care and companionship' and other accident-related damages.
Our law office offers sincere condolences to all those who knew and loved Giuliano for such a heartrending loss.
Ross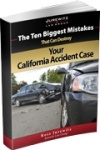 Jurewitz represents people killed or injured in Riverside  County rollover auto accidents and is the managing lawyer of the Jurewitz Law Group Injury & Accident Lawyers' a California personal injury law firm dedicated to representing families of people injured or killed in an auto wreck in Riverside County. If you or a loved one suffers from a serious autowreck injury' please contact our personal injury office at 888-233-5020.
Ross Jurewitz
Ross Jurewitz is the founder and managing lawyer of the Jurewitz Law Group, a San Diego personal injury attorney law firm. These San Diego injury accident lawyers specialize in helping people seriously injured in a variety of accidents throughout San Diego County and California.
Connect with Ross Jurewitz on Google+