Blog / Brain Injury / Former Baltimore Ravens Orlando Brown Found Dead at 40
Former Baltimore Ravens Orlando Brown Found Dead at 40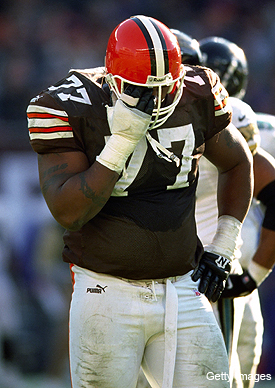 Former offensive tackle Orlando "Zeus" Brown' renowned for filing a lawsuit against the NFL' was found dead in his Baltimore condominium on Friday' September 23 at the age of 40. The cause of death has not been announced.
Brown' who played for both the Cleveland Browns and Baltimore Ravens' suffered a serious injury in 1999 that almost ended his career. During a Browns game' the player was hit in the eye with a penalty flag thrown by official Jeff Triplette. Brown left the field holding his eye' came back on the field' and shoved Triplette. He was suspended by the league until it was discovered that the thrown flag caused Brown to suffer temporary blindness in one eye.
As a result' Brown filed a $200 million lawsuit against the NFL' stating that his career was prematurely shortened. The case settled in 2002 for $15 million. Brown had blurred vision and bleeding in the eye and was hospitalized for 6 days. Though he received numerous treatments around the country' he wasn't medically cleared to play again until early 2003. He came back in 2004 and signed with the Ravens.
If you or someone you love has suffered a serious injury as a result of someone else's negligence' consult with a California personal injury lawyer. The dedicated attorneys at the Jurewitz Law Group Injury & Accident Lawyers will work to get you the money you need to pay for your medical bills and loss of wages. Call our law office at 888-233-5020.
Ross Jurewitz
Ross Jurewitz is the founder and managing lawyer of the Jurewitz Law Group, a San Diego personal injury attorney law firm. These San Diego injury accident lawyers specialize in helping people seriously injured in a variety of accidents throughout San Diego County and California.
Connect with Ross Jurewitz on Google+