Blog / Car Accident / La Mesa Hit-And-Run Crash Causes Toddler Head Injuries in Accident
La Mesa Hit-And-Run Crash Causes Toddler Head Injuries in Accident
A 27-month-old boy suffered serious head injuries in La Mesa hit-and-run car wreck that occurred on August 25' 2011' around 7:50 p.m. in the eastbound lanes of Fletcher Parkway near the intersection with Trolley Court. According to La Mesa police Sgt. Bret Richards' a white colored 2006-2011 Volkswagen Passat wagon with a luggage rack on top struck the boy and fled from the car accident scene.
The child suffered serious injuries and was immediately transported to Rady Children's Hospital to receive medical treatment. The child's parents were at home when this car accident occurred and apparently' the child had wandered away from home.
It is illegal under California to leave the scene of any traffic accident and that includes a car accident. This driver should have remained at the scene' waited for the authorities to arrive and helped the injured child in any way he could. But' he chose to drive away from the scene. Running way from the scene of the accident and leaving a young child injured is simply morally incomprehensible. We trust this hit-and-run car driver will soon be apprehended and brought to justice.
The injured child's parents would be well-advised to consult with an experienced La Mesa car accident lawyer who will advise them about her legal rights and options. In such cases' the toddler's parents could seek compensation to cover medical expenses' cost of hospitalization' and other related damages.
Our personal injury law office sincerely hopes that the injuries suffered by the child do not prove life-threatening and heal soon.
Ross Jurewitz represents people injured in San Diego County hit-and-run car accidents and is the managing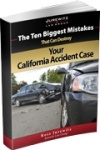 lawyer of the Jurewitz Law Group Injury & Accident Lawyers' a California personal injury law firm dedicated to representing families of people injured or killed in car accidents. If your child has been killed or injured in a car crash in La Mesa' please order your free copy of the California car Accident book. It is full of helpful information that will help you protect your legal rights and it is free to all California residents.
Ross Jurewitz
Ross Jurewitz is the founder and managing lawyer of the Jurewitz Law Group, a San Diego personal injury attorney law firm. These San Diego injury accident lawyers specialize in helping people seriously injured in a variety of accidents throughout San Diego County and California.
Connect with Ross Jurewitz on Google+