Blog / Car Accident / Moreno Valley Head-on Car Crash Injures Drivers and Children
Moreno Valley Head-on Car Crash Injures Drivers and Children
Three people suffered minor to major injuries in a two-vehicle head-on collision that occurred on August 5' 2011' around 10:45 a.m. at Kitching Street just south of Brodiaea Avenue in Moreno Valley. According to Moreno Valley police' a black Mercury Cougar lost control and collided with a Dodge Caravan carrying two women and three children.
The black Cougar was traveling south on Kitching Street when it moved into the No. 1 lane. The driver lost control and swerved into the No. 1 northbound lane. The Mercury collided head-on with the oncoming a Dodge. The mercury driver' who was alone in the car' suffered minor injuries and was immediately transported to Riverside Community Hospital for treatment. Two women and three kids travelling in the Dodge also suffered minor to moderate injuries and were immediately transported to Riverside County Regional Medical Center for treatment.
Moreno Valley police later cited the Mercury driver for driving without a license. Driving without a license is an offense and leads us to question the driving abilities of the driver.
The injured victims should immediately seek counsel from an experienced Riverside County car crash lawyer who would educate them about their legal rights and options. The injured victims can file a personal injury lawsuit to obtain compensation to cover treatment' medical and hospital costs.
We hope that the injured victims get the justice they deserve and the at-fault party is apprehended an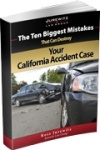 d brought to justice.
Ross Jurewitz represents people injured in Riverside County car accident and is the managing lawyer of the Jurewitz Law Group Injury & Accident Lawyers' a California personal injury law firm dedicated to representing families of people injured or killed in car accidents. If you or a loved one has been killed or injured in a multiple-vehicle crash in Brodiaea Avenue' please order your free copy of the California car accident book. It is full of helpful information that will help you protect your legal rights and it is free to all California residents.
Ross Jurewitz
Ross Jurewitz is the founder and managing lawyer of the Jurewitz Law Group, a San Diego personal injury attorney law firm. These San Diego injury accident lawyers specialize in helping people seriously injured in a variety of accidents throughout San Diego County and California.
Connect with Ross Jurewitz on Google+