Blog / Bus Accident / Nickelodeon Star Miranda Cosgrove Injured in Tour Bus Accident
Nickelodeon Star Miranda Cosgrove Injured in Tour Bus Accident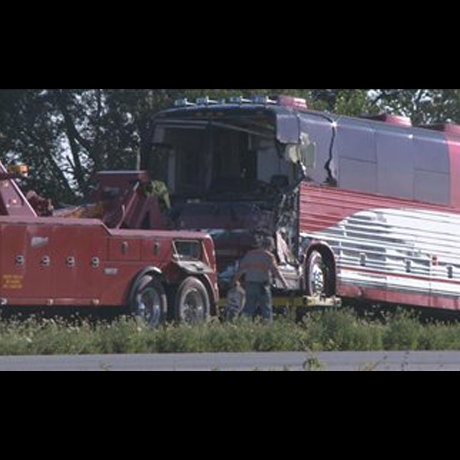 "iCarly" star Miranda Cosgrove suffered a broken ankle in a truck accident when her tour bus crashed into an overturned tractor-trailer on I-70 in Illinois' just outside of Vandalia on the morning of August 11' 2011.
According to local reports' the bus hit a part of the overturned semi that was blocking one of the lanes. According to the 18-year old Nickelodeon star' it was pitch black outside when her tour bus' en route to Kansas' collided with the truck. Rather than swerving and potentially overturning the bus' the bus driver decided to hit the brakes and face the semi head on. Miranda says this may have saved her life.
There were 5 passengers on the bus' including the star's mother who was also bruised and banged up. The bus driver was in critical condition and had to be airlifted from the crash scene to a nearby hospital to receive 45 stitches. The victims can consult with a personal injury lawyer to file claims with the musician's management company to get the money they need to cover damages and medical bills.
Fortunately' all 5 passengers will make a full recovery. Cosgrove's "Dancing Crazy Tour" will be postponed until further
notice.
Our law office offers our sincere condolences to the victims' their families' and Cosgrove's fans.   If you or someone you love has been injured in a bus or truck accident in San Diego' please contact an auto accident attorneys at the Jurewitz Law Group Injury & Accident Lawyers to get you the coverage you need to get back on your feet. Call our law office at 888-233-5020 to set up a free consultation.
Ross Jurewitz
Ross Jurewitz is the founder and managing lawyer of the Jurewitz Law Group, a San Diego personal injury attorney law firm. These San Diego injury accident lawyers specialize in helping people seriously injured in a variety of accidents throughout San Diego County and California.
Connect with Ross Jurewitz on Google+