Blog / Motorcycle Accidents / South Africa Mountain Biker Attacked by Antelope
South Africa Mountain Biker Attacked by Antelope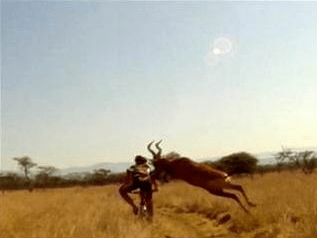 17-year-old South African Evan van der Spuy was thrown into the air when a massive hartebeese antelope charged him at an estimated 30 mph in the bush lands of Kwazulu Natal. The teen was competing in a biking competition on October 9' 2011' when the buck came out of nowhere and plowed a hoof into van de Spuy's head.
His partner from Team Jeep South Africa caught the freak bicycling accident on tape and called for immediate medical assistance after his teammate was hit.
Fortunately' the biker's helmet absorbed most of the impact. Though' he did suffer a concussion and a fairly severe case of whiplash.
Van der Spuy will be forever known on YouTube as "the biker who got hit by a deer." Only in Africa would a bicyclist be taken out by 300-pound-plus antelope.
If you or someone you love has been in a serious bike crash in California' contact the experienced bicycle accident attorneys at the Jurewitz Law Group Injury & Accident Lawyers at 1-888-233-5020.
Ross Jurewitz
Ross Jurewitz is the founder and managing lawyer of the Jurewitz Law Group, a San Diego personal injury attorney law firm. These San Diego injury accident lawyers specialize in helping people seriously injured in a variety of accidents throughout San Diego County and California.
Connect with Ross Jurewitz on Google+