Blog / Car Accident / Woman Dies in Crash With Inglewood Police Cruiser
Woman Dies in Crash With Inglewood Police Cruiser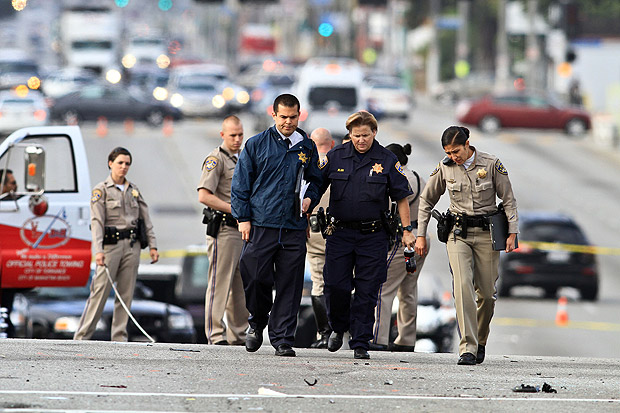 An unidentified woman is her 40s was killed in a car collision with a police cruiser on May 24' 2011' around 1 a.m. near Manchester Avenue. According to Officer Travis Ruiz' the victim was a front seat passenger in the Range Rover car that collided with one of the three Inglewood Police Cruisers responding to shooting accident nearby.
The impact of the collision was so strong that the victim was ejected out of her car and struck the concrete pathway.  The injured woman was pronounced dead at the accident scene. The driver of the car and the police officers suffered minor injuries and scratches. From the limited information available' it is unclear what lead to this fatal car accident. The first police car made it through the light. The second cruiser collided with the Range Rover. It appears that a right-of-the-way violation contributed to this crash. Investigators are reviewing the patrol car video and red-light camera.
According to California Vehicle Code section 21802 (a): "The driver of any vehicle approaching a stop sign at the entrance to' or within' an intersection shall stop as required by Section 22450. The driver shall then yield the right-of-way to any vehicles which have approached from another highway' or which are approaching so closely as to constitute an immediate hazard' and shall continue to yield the right-of-way to those vehicles until he or she can proceed with reasonable safety."
If it is found in the initial investigation that the police officer violated the Range Rover's right-of-the-way' then the Police department may be held liable for victim's wrongful death. It would be in the best interest of the victim's family to immediately seek counsel from an experienced auto injury lawyer in Los Angeles County to learn about their legal rights and obtain compensation to cover funeral and burial costs' loss of anticipated earnings' loss of love and companionship' and other accident-related expenses.
Our law office offers sincere condolences to all those who knew the victim.
Ross Jurewitz represents people killed in auto collisions in Los Angeles County and is the managing lawyer of the Jurewitz Law Group Injury & Accident Lawyers' a California personal injury law firm dedicated to representing families of people injured or killed in vehicle crashes.  If you or a loved one has been killed or injured in a car accident in Los Angeles County' please order your free copy of Mr. Jurewitz's California car accident book. It is full of helpful information that will help you protect your legal rights and it is free to all California residents.
Ross Jurewitz
Ross Jurewitz is the founder and managing lawyer of the Jurewitz Law Group, a San Diego personal injury attorney law firm. These San Diego injury accident lawyers specialize in helping people seriously injured in a variety of accidents throughout San Diego County and California.
Connect with Ross Jurewitz on Google+