Blog / Drunk Driving Accidents / Drunk Driver Hits 5 Cars in San Diego DUI Accident
Drunk Driver Hits 5 Cars in San Diego DUI Accident
Publish Date: 2012/02/20
A woman faces DUI charges after crashing her car into at least 5 vehicles on Hotel Circle in Mission Valley early Monday morning.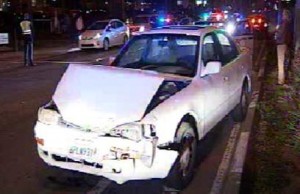 The drunk driver allegedly hit the first car on eastbound I-8 near Sunset Cliffs, but fled the scene. She crashed into a second vehicle while exiting onto Taylor Street. However, the driver tailed her and phoned the police. The woman was eventually stopped after a head-on collision. Luckily, a passerby stepped in before she could drive away from the accident again.
She was arrested by CHP for driving under the influence. Details of the story are still developing.
If you or someone you love has been injured or killed because of a drunken driver in California, contact the San Diego DUI accident attorneys at the Jurewitz Law Group Injury & Accident Lawyers to get the compensation you need and deserve. Call our personal injury office at 1-888-233-5020. 
Ross Jurewitz
Ross Jurewitz is the founder and managing lawyer of the Jurewitz Law Group, a San Diego personal injury attorney law firm. These San Diego injury accident lawyers specialize in helping people seriously injured in a variety of accidents throughout San Diego County and California.
Connect with Ross Jurewitz on Google+